Hello church! As many of you hopefully know by now, we are getting ready to start memorizing the book of Ephesians. Many times, Scripture memorization can seem daunting. By nature, many, if not most, of us aren't studiers. As a fellow non-studier myself, I feel your pain. The thought of sitting and spending deliberate energy to cram information into my mind in such a way that I can access it at a moment's notice sounds tedious and boring.
You may be thinking, "Garrett... if you're trying to motivate me to memorize this book with you, this is having the opposite affect." Before I try to motivate you, I want you to know that I struggle in the same way that you do. Being a pastor does not mean I am immune to the struggles of the flesh that we all wrestle with. That famous passage on temptation in 1 Corinthians 10: 13 reminds us that "no temptation has overtaken [us] that is not common to man." I get the struggle and the temptation. It is common to me, too.
The Object Affects the Attitude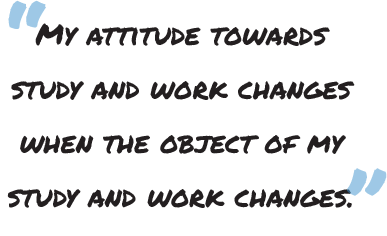 Here's where I want to encourage you. As a fellow non-studier, I have learned that my attitude towards study and work sometimes changes when the object of my study and work changes. For example... I am not motivated very much to study and work at my knowledge of golf. I have respect for the abilities of other golfers, and I think the game itself is fine, but that object doesn't stir my affections, and therefore, it doesn't stir my attitude towards it. However, I am very motivated to study and work at my knowledge of the bass guitar! That object stirs my affections! Therefore, my attitude towards it changes from dread to excitement!
So it is with memorizing God's Word. Consider the psalmist in what is unquestionably the most detailed chapter of Scripture when it comes to God's Word, Psalm 119:97-104:
---
Oh how I love your law!
It is my meditation all the day.
Your commandment makes me wiser than my enemies,
for it is ever with me.
I have more understanding than all my teachers,
for your testimonies are my meditation
I understand more than the aged,
for I keep your precepts
I hold back my feet from every evil way,
in order to keep your word.
I do not turn aside from your rules,
for you have taught me.
How sweet are your words to my taste,
sweeter than honey to my mouth!
Through your precepts I get understanding;
therefore I hate every false way.
---
Because the psalmist loves God's law, he meditates upon it all the day! He turns back to it again and again, because it is sweeter than honey! I know not everyone loves honey, but to those who do, there is nothing sweeter!
Not only is God's Word pleasant, but it is desirable to make one wise and godly. Because the psalmist meditates upon it all the day, he is wiser than his enemies, his teachers, and the aged. His feet are held back from evil and false ways. It isn't merely a pleasant past time or snack. It is our source of godliness-producing-wisdom that protects us and transforms us into the image of Christ!
The Turning of our Distorted Desires
It is so interesting to me that the very "temptations" in this psalm that led the psalmist to feast on God's Word are the very same temptations that led Adam and Eve to feast upon the forbidden fruit in Genesis 3:6:
---
So when the woman saw that the tree was good for food, and that it was a delight to the eyes, and that the tree was to be desired to make one wise, she took of its fruit and ate, and she also gave some to her husband who was with her, and he ate.
---
It looked delicious (and it probably was delicious) and promised godliness-producing-wisdom. But, it was a lie. That fruit didn't make us like God. It made us un-like God. It brought death and sin. And even now, the very temptations that led Adam and Eve to sin aren't enough to lead us to obediently feast upon God's Word. Apart from Christ, we are in a pitiful state.
However, due to the work of Christ on the cross and the work of the Holy Spirit dwelling within His people, we have a precious promise and blessing wrapped up in this instruction from Philippians 2:12-13:
---
... work out your own salvation with fear and trembling, for it is God who works in you, both to will and to work for his good pleasure.
---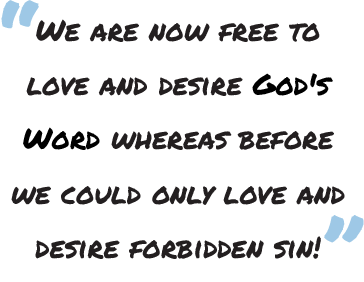 We who are now filled with the righteousness of Christ and the Holy Spirit are now empowered to be able to "will and to work for his good pleasure!" We are now free to love and desire God's Word whereas before we could only love and desire forbidden sin!
If memorizing Scripture seems daunting, that's okay. God works in the midst of our anxiety all the time. The real question here is: Do you desire God's Word? Does it stir your affections? If so, I'm confident that your attitude towards study will change when it comes to the all-satisfying God and His divine, holy Word. Pray to the Lord to grant you a stronger desire to store His Word in your heart. Seek a brother or sister to embark on this task alongside you. Set a goal. Sharpen one another and hold one another accountable. I am confident that God will bring this work to completion in you as you seek and rely on Him to carry you through it!
I am excited to embark on this journey with you! I will be memorizing Ephesians out of the ESV. If you're joining in with me, feel free to ask me about it occasionally, and I will be able to do the same for you. You can click here to see the technique I'll be using. It is not original to me, but it has proved very effective for me in the past. I hope that it helps you as well.